Spain's Saudi Arabia Super Cup in danger due to COVID-19 restrictions
The RFEF could change the venue as fans will not be allowed in Jeddah as things stand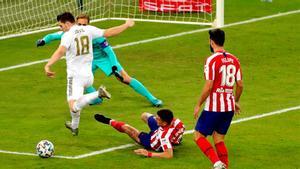 The Spanish Super Cup may not be played in Saudi Arabia in the end. The fact the country is now allowing fans into stadiums due to COVID-19 means the income from playing the tournament there would be much less than stipulated, so the Royal Spanish Football Federation are planning on another venue, probably in Spain.
What is certain, according to Cadena COPE, is that the same dates will be maintained. The semifinals will be played on Jan. 13 and Jan. 14 and the final will be played on Sunday, Jan. 17.
Remember that the four teams taking part in this season's Super Cup are the Copa del Rey finalists, Athletic Bilbao and Real Sociedad (the final has still not been played) and the top two from La Liga last season, Real Madrid and Barcelona.
Madrid won last season's Super Cup, the first played in Jeddah, Saudi Arabia. They beat Atletico Madrid in the final, with Barça and Valencia the beaten semifinalists.