Sevilla become latest La Liga club to announce player wage cuts
The playing staff at the Spanish club will have their salaries reduced due to coronavirus pandemic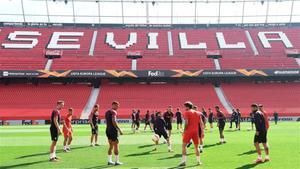 Sevilla have become the latest Spanish side to announce temporary wage cuts as a measure to deal with the financial repercussions of the coronavirus pandemic.
Barcelona, Atletico Madrid, Espanyol, Osasuna and Alaves are the four La Liga clubs that have so far taken similar action, while Real Madrid are looking into how to cut costs as well.
In a statement released on Wednesday, Sevilla confirmed they would be applying for an ERTE (Temporary Reduction of Employment Action) for over 350 members of staff, including the first team players, who will lose 70 percent of their salaries.
The club explained that the effects of the coronavirus crisis have forced the club to take action.
"The ERTE will affect 254 employees in the sporting structure and 106 in non-sporting departments," Sevilla explained.
"In relation to the professional teams, the ERTE will mean a 70 percent reduction to the working week for coaches and players, in the men's and women's first teams, as well as for the coaches and players in the academy."
El Sevilla Fútbol Club se ve obligado a presentar un ERTE por la suspensión indefinida de LaLiga.
El Consejo agradece a la primera plantilla y cuerpo técnico la predisposición mostrada.
Los miembros del Consejo y principales ejecutivos reducen voluntariamente sus emolumentos.

— Sevilla Fútbol Club (@SevillaFC) 8 de abril de 2020