Lopetegui takes charge of Real Madrid training on Monday
The board will meet later in the day when they're expected to fire him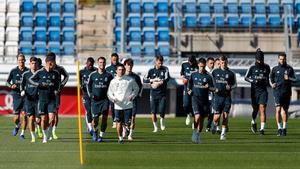 Julen Lopetegui took charge of Real Madrid training on Monday at Valdebebas. The coach has begun to prepare for the Copa del Rey game against Melilla but everything suggests he will be sacked later in the day when president Florentino Perez meets with the board.
Los Blancos are working against the clock on appointing a new manager, but until all the details are closed they will not announce the sacking of Lopetegui.
The atmosphere at training, according to EFE's sources, was strange. The players had thought the session would be handled by someone else and that Santiago Solari would be in charge of the Copa del Rey game.
It's worth highlighting, however, that the Madrid coach didn't appear in any of the 12 photographs the club posted on their official website. Sergio Ramos, Marcelo and Gareth Bale, as well as other dressing room heavyweights, were not seen either.
The absence of those players is perhaps due to them taking part in a recovery session in doors following Sunday's mauling at Camp Nou.
Dani Carvajal worked with the ball on the pitch as he continues his recovery from an injury.