Butragueño refuses to confirm Lopetegui will stay on as Real Madrid coach
"It isn't the time to talk about that, it's a very difficult result to take."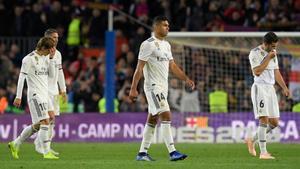 In declarations to BeIN Sports, Emilio Butragueño didn't want to offer his assurances that Julen Lopetegui would stay on as Real Madrid coach. His team leave the Camp Nou hurt after being crushed 5-1 by Barcelona.
When asked about Lopetegui's future at Madrid, Butragueño said: "It isn't the time to talk about that. The match has just finished and the result is very hard to take. It's a bad night for everybody."
He continued by saying: "We aren't happy. We apologise to all the Madrid fans. We've all lost. We must congratulate Barça and carry on."
On the match itself, Butragueño was as honest as you'd expect. "They were better in the first half. We're a team that wants the ball and it belonged to Barcelona. Their pressuring was very effective. At the start of the second half is where we had our opportunity. When it was 2-1, we wasted so many chances to draw level and if Modric's effort goes in, it might have opened the game up even more. We didn't get the equaliser and when it went to 3-1 it was definitive. On the counter they hurt us a lot. The result, in the end, is a tough punishment to take."