Thierry Henry: It was an honour and a privilege to know Maradona
The Frenchman recalled the late Argentine who passed away on Wednesday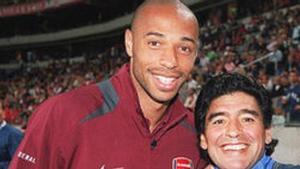 Former Barcelona forward Thierry Henry wrote on Twitter in memory of Diego Maradona, who died on Wednesday of a heart attack.
"It was like yesterday, being old enough to watch the first World Cup that I can remember (1986)," said ex France striker Henry on his Twitter account.
"He was mesmerising. It was his World Cup. There were so many more memories. It was an honour & privilege to watch and then meet one of the greatest footballers to have ever played the game.
"My thoughts are with all his family, friends and many admirers. RIP."
2/2...It was an honour & privilege to watch and then meet one of the greatest footballers to have ever played the game. My thoughts are with all his family, friends and many admirers. RIP #Diegoarmandomaradona #legend

— Thierry Henry (@ThierryHenry) 26 de noviembre de 2020