Radio La Red: Barça make a huge offer to Inter for Lautaro Martínez
The young Argentinian forward has been in great form during the Copa America and reports suggest Barça have bid €112m for his services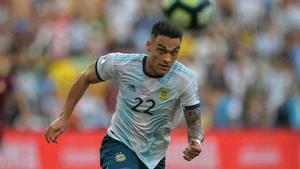 FC Barcelona might have presented a huge offer for Argentina star Lautaro Martinez. This is according to local radio station, La Red, who say they've heard similar stories coming out of Italy too. Martinez, who is enjoying a fine Copa America so far, is one of the names on Barça's shortlist to help ease the stress on Luis Suarez.
According to 'Radio La Red', Barça are willing to pay Inter Milan €112m for their young striker. He only joined Inter last year in a €30m deal and this move would see the 21-year-old's value nearly quadruple.
Over in Italy, however, they see this as a very complicated deal to get done. Not only because of what Inter would ask for but because new coach, Antonio Conte, doesn't want to lose Martinez and is instead looking to offload Mauro Icardi.