Messi is now ready to see out the final year of his deal with Barça
With Barça unwilling to negotiate his departure, Leo could stay at the club until next summer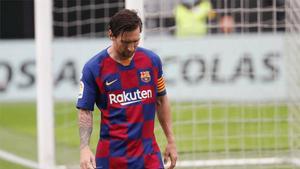 Leo Messi has maintained his silence throughout the saga surrounding his future and a potential move away from FC Barcelona. The Argentinian star, who sent a burofax to the club informing them he was exercising the 'exit clause' in his deal, is now ready to change his mind and stay at Barça for another 12 months.
The player would still prefer to leave and join Pep Guardiola at Manchester City so he can begin a new project away from the Camp Nou. However, Josep Maria Bartomeu refuses to accept anything less than the €700m stipulated in Leo's buyout clause. He doesn't want to make a 'friendly pact' with his star man which reduces Messi's options greatly.
Jorge Messi was told the same message in person: Barça won't sell Messi for any price that isn't his buyout clause. Furthermore, if Leo decided to 'sign' for another team then Barça would immediately take the case to court.
Due to the circumstances, he finds himself in, Messi is now ready to see out the remaining year in his contract and decide where his future lies next summer. Leo doesn't want to leave on bad terms nor go through a lengthly court case with a side he's spent over 20 years playing for. Although he hasn't made a decision yet, Leo could complete a major u-turn and begin to work under new manager Ronald Koeman.