Five keys to why Leo Messi wants to leave Barcelona
The Argentine star told the club he wants to go elsewhere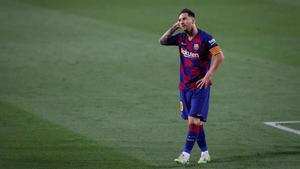 After more than 20 years, Lionel Messi wants to walk away from Barcelona. He told the club that on Tuesday. The forward has a clause in his contract that may let him walk away for free, pending a legal scrap with the club. Here are five reasons he wants to go.
1. No relationship with this board
Despite their cordiality to date, Leo Messi has never had a good relationship with Bartomeu's board. He has had his contract renewed, yes, and posed for photos. But he's never been in line with their thinking in the past five years. Messi has stayed out of love for the club, but what happened in Munich demands radical change. And that didn't happen.
2. Valverde's exit
The Argentine star has always got on well with the coaches since 2004. Rijkaard, Guardiola, Tata Martino, Tito, Luis Enrique (despite some arguments) and Valverde. It was a blow for Messi when he was sacked and hiring Quique Setien was inexplicable.
3. Disagreement with the planning
Messi has long since been unimpressed with the club's sports planning. Season after season it is a disaster, terrible signings and bad investments. Neymar's 222m bounty couldn't have been spent worse. With Eric Abidal the relationship has not been fluid. Messi thinks the club has been destroying itself in each new window.
4. Suarez and the latest behaviour
Messi did not like the way his friend Luis Suarez was told he was going to be axed. They are partners on and off the pitch, one of Leo's greatest friends, and he thinks the Uruguayan deserved a lot more respect.
5. No winning project, time up
He had the decision in his head but waited to talk to Koeman first. He was not convinced by the Dutchman's project and does not think he can keep winning at Barca - and at 33 he doesn't have many more years left at the top.