Zidane says he's not certain he will be Real Madrid coach next season
The Madrid boss says he knows how the club works and is prepared for everything
He also played down the fallout from James' reaction after being taken off at Leganes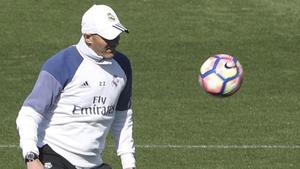 Real Madrid Zinedine Zidane spoke in a press conference on Friday to preview his side's derby against Atletico Madrid. Among other things, he also spoke about his future, casting doubt on him remaining in charge, and about James Rodriguez's anger at being substituted in midweek
On his future: No, [I'm not safe] at all. I'm not preparing anything. What I do is what is left for this season. I know this club, I know what it is to coach Real Madrid, for better or worse. I'm ready for every eventuality. I'll only talk about the next game, and it will be like that until my last day as coach here.
On James Rodriguez's substitution: Of course I would do it again. It's not a mess. They're things between a manager and a player that always happen. James and I have the same interests. It stays where it is and that's that. Now we're only thinking about Saturday's game.
On rotations: We have nine games left and all the players are important. It's not just the BBC, they also know that we are a group and everyone is important. It's always difficult when you have to choose, but for me everyone is important and will be until the end of the season. The idea is to reach the end of the season in top shape. When Ronaldo or Bale don't play it's because we know there are a lot of games and because I know that the rest can add a lot to the team.
On Ronaldo's rests: There's no plan. We speak with him, we decide and that's it. The same with everyone. It's important that the player feels what we are are doing. They're intelligent. They know my idea and we're all together until the end. Ronaldo is training well and is ready for the end of the season. Every game he plays he wants to score and be an important player. That gives us ambition. His energy is positive, not just for him. For him it's his motor, and for the rest, too.
On Atletico: There is no favourite. There are three points at play. There's no explanation (for Atletico's recent success at the Bernabeu). We will see what happens tomorrow. Everyone speaks about them because they defend well, but throughout the years, since Simeone arrived, they've improved a lot and play good football. They don't just have players that defend. They know how to play.