Simeone: I'm more proud of the draw at Barcelona than the wins against Madrid
The Argentine highlighted the draw which earned his side the league title at Camp Nou
Atletico face Real on Saturday in the Madrid derby at the Santiago Bernabeu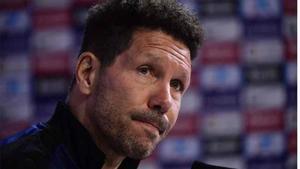 Atletico Madrid coach Diego Simeone has played down the importance of his side's wins over Real Madrid going into Saturday's derby at the Santiago Bernabeu. Instead, he highlighted his side's draw at Camp Nou, which won them the league in 2014.
"I am most proud of the draw at Barcelona which won us la Liga," Simeone said in a press conference when asked if he was proud to have beaten Madrid.
On Saturday's derby, he added: "For us it's the same as going to any other ground, because we always need the points. And tomorrow it's indifferent where we are playing.
"We need the points to keep working with regards to reaching our objectives.
"Madrid's numbers are extraordinary. They won the Champions League, the Club World Cup, they've been top all season and it's clear they're on track to win the league. All the time there are less games to play and they're focused on that.
"On Saturday I imagine a rival that will come out strongly, pressing high from the start of the game, with a lot of pace, as they usually do in the first 20, 25 minutes, with Bale, Ronaldo, Benzema... almost certainly Isco in the middle. They will have more possession if Casemiro doesn't play.