Zidane explains Ronaldo's reason for looking into phone's camera
The French coach was speaking ahead of Wednesday's Leganes game
Ronaldo is available despite the boot he took to the head on Sunday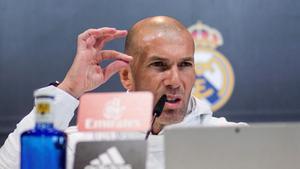 Zinedine Zidane gets asked a lot of questions. Lots. Every press conference is a new battle for the French coach, who recently has been forced to answer less favourable queries.
Among the things he had to respond to before Wednesday's Copa del Rey quarterfinal second leg against Leganes was the image of Cristiano Ronaldo checking himself out on a mobile phone after taking a boot to his head, which drew blood.
"Cristiano grabbed the mobile to see if he could continue playing or not," Zidane said. "He wanted to know, whether the cut was very deep or not. I am saying exactly what he told us in the dressing room after. I am not making anything up
"They stitched it up and today he was back in training. If he is training with us, with his eye like this [swollen] it shows how important it is for him to be on the pitch."
The image of Ronaldo, bleeding and looking into the phone's camera, quickly became a hot topic on social media. However, it's unlikely to prevent him playing against Leganes, a game which Madrid go into with a 1-0 lead from the first leg.