Toni Kroos not losing faith in qualifying for next round of UCL
The German spoke after the game in Kiev with Madrid losing 2-0 to Shakhtar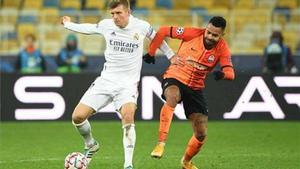 Real Madrid fell in Kiev against Shakhtar Donetsk, a 2-0 defeat that makes life hard for them as they bid to get out of the Champions League group phase.
Kroos spoke after the game. "If you win you always have more confidence than when you lose, that's normal," he said. "As a team you feel better when you win and we have to get back to winning ways. We'll see the situation in the group. We just have to win our last game and that is what we can do ourselves. If Gladbach don't win, it's in our own hands."
He does not think the club are suffering physically.
"It's not a fitness thing," he added. "I'm fine, but if you lose games that's negative, we know that. Against Inter we scored early, today was similar, a bit worse but we had a good first half. It's harder at 1-0 down and in the end at 2-0 we didn't believe we'd turn it around."