Jurgen Klopp, a big fan of Lille's Soumare
The Liverpool boss likes the playter who Madrid, United and Chelsea have asked about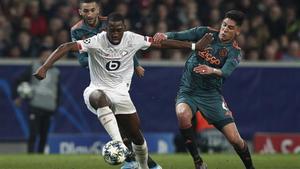 Boubakary Soumare has delighted scouts for big clubs and they want the Lille youngster.
The Frenchman, of Senegalese origin, is 21 and he has flown in Ligue 1 this season. Following in the steps of Pepe, who signed for Arsenal, midfielder Soumare could end up moving this summer.
Liverpool coach Jurgen Klopp is a big fan of the box to boxer. The coach will have to see what Real Madrid and Florentino Perez do too, as they are also interested.
Liverpool started to negotiate with the player in the summer but he prefered to have the season in France. In January his value was 40 million euros but that could be lower now because of the coronavirus's impact.
This season he has played 30 times for Lille, shining for his vesatility and omnipresence in all facets of play in the middle. After January he was relegated to the bench, with six games in a row without playing and then seven mins as a sub in the seventh.
The player arrived at Lille for free from PSG's academy. Madrid, Man United, Chelsea and Newcastle have been interested.