Serge Aurier takes nearly 10 minutes to come on as a sub
The player was disrespecting coach Unai Emery's instructions
Told to come on, he dilly-dallied for almost 10 entire minutes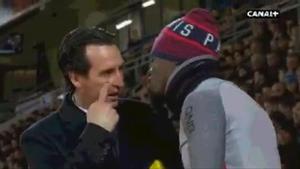 PSG defender Serge Aurier made a mockery of his coach Unai Emery as he took nearly 10 minutes to come on as a substitute.
Thomas Meunier was injured and Emery wanted to take him off in the 73rd minute, but Aurier was not ready to come on until the 81st.
He was berated by his coach and took a long time to put his kit on.
Aurier is a controversial character and was previously banned for six weeks for his comments about Laurent Blanc and Zlatan Ibrahimovic, as well as not being allowed in to England to play against Arsenal thanks to a crime charge against him for attacking a police officer.
Flash info #FCLPSG
Statistique: Durant le temps qu'a mis Serge #Aurier à entrer en jeu ce soir, le PSG avait pris 3 buts à Barcelone. pic.twitter.com/YzBdR39wdB

— SUPER 🦸🏻‍♂️ (@SuperCazarre) 12 de marzo de 2017
-Tu connais la différence entre Aurier & moi?
-Non cest quoi?
-Aurier met 7 minute à enfiler ses chaussette & moi 7 minutes à enfiler le PSG pic.twitter.com/XoZtoVWgPG

— Fiorenzo Pazzo (@Fiorenzo_Pazzo) 13 de marzo de 2017
🔴Dépêche AFP: le bus parisien devrait quitter le Moustoir à 1h45, après que S.Aurier se soit déshabillé, pris sa douche et habillé #FCLPSG

— Nando C. (@NandoChachalana) 12 de marzo de 2017