PSG defender Dani Alves' take on the Neymar-Cavani situation
Dani Alves took the ball from Cavani and gave it to Ney for a free-kick
The Brazilian says the team is far more important than individual success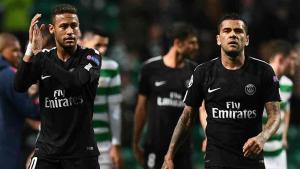 Paris Saint-Germain defender Dani Alves has spoken about the conflict between Edinson Cavani and Neymar, who fought over who should take free-kicks and penalties in their side's win over Lyon.
Despite the fact Alves was involved in the incident, he wanted to play down what had happened. Before one free-kick, he had taken the ball from Cavani and given it to Neymar.
"I was going to have a go myself [laughs]. I had already taken the ball for the free-kick because I have already scored a few [laughs]. I was confident. To me, this is nothing, the most important thing is that the team is ahead of any individual result. I believe that when the match is really hard and we want to make the breakthrough, we all want to take responsibility. That is what I wanted to do here but Ney took the ball from me and ended up shooting," Alves told SportTV after the game.
Speaking again later, Alves added on the problems between Cavani and Neymar: "In a team there shouldn't be rifts between two team-mates. We all have to be together for the team to keep growing, for the team to reach its objectives. I think we are all clever enough to know that the most important thing is the collective result, not individual success, because this is a team sport."