Visitors fail to take points as Osasuna beat Cádiz 3-2
Home crowd rewarded with a win, as Jagoba Arrasate's team triumph over Cádiz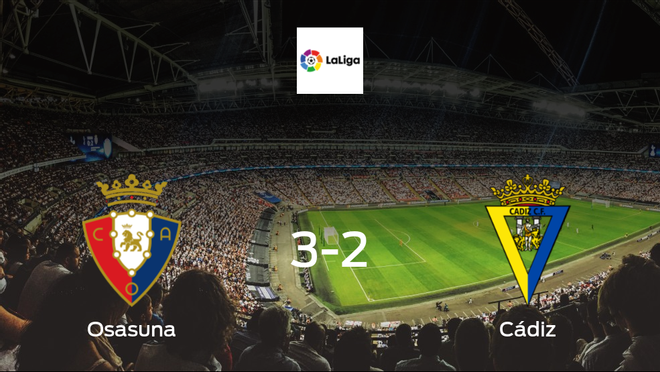 On Tuesday, Cádiz suffer an away defeat to Osasuna at the Estadio El Sadar. Osasuna arrived with the intention of increasing their league score following a disappointing 2-2 draw with Athletic Bilbao in their previous game whilst Cádiz were coming from consecutive wins against Huesca and Granada. As it stands, Osasuna and Cádiz are 11th, (44 points) and 12th, (43 points), in the table respectively, after 36 matches.
Osasuna started strong and were rewarded for their efforts, thanks to Ante Budimir finding the net at the 38 minute mark, finishing the first half 1-0.
Cádiz fought back, with an early penalty goal from Ivan Saponjic in the 49th minute. However, each side looked hungry to win and Los Rojillos then found the back of the net, on 75 minutes thanks to Ante Budimir, taking the score to 2-1. Osasuna looked to have the game under control when they scored again and incerased their lead, thanks to a goal from Roberto Torres at the 86 minute mark to establish a 3-1. In the end though, Cádiz pull-back just before the final whistle, with a goal from Alberto Perea and seeing the game end 3-2.
For Osasuna, Roberto Torres, Enric Gallego, Jon Moncayola, Jony and Juan Cruz, came on for Oier, Ezequiel Avila, Javier Martinez Calvo, Ruben Garcia and Manu Sanchez. Cádiz brought on Alberto Perea, Jairo Izquierdo, Jorge Pombo and Alvaro Negredo, to replace Carlos Akapo, Ivan Saponjic, Garrido and Ruben Sobrino.
There were bookings for David Garcia and Nacho Vidal from Osasuna. For Cádiz, Alfonso Espino and Isaac Carcelen saw yellow.
Osasuna will next travel to Atletico Madrid, while Cádiz will face Elche at home.
Technical card:
Osasuna:
Juan Manuel Perez, Nacho Vidal, David Garcia, Unai Garcia, Manu Sanchez (Juan Cruz, min.88), Javier Martinez Calvo (Jon Moncayola, min.64), Lucas Torro, Oier (Roberto Torres, min.63), Ruben Garcia (Jony, min.71), Ante Budimir and Ezequiel Avila (Enric Gallego, min.64)
Cádiz:
David Gil, Isaac Carcelen, Carlos Akapo (Alberto Perea, min.20), Pedro Alcala, Marcos Mauro, Alfonso Espino, Ruben Sobrino (Alvaro Negredo, min.77), Jens Jonsson, Garrido (Jorge Pombo, min.77), Anthony Lozano and Ivan Saponjic (Jairo Izquierdo, min.69)
Stadium:
the Estadio El Sadar
Goals:
Ante Budimir (1-0, min. 38), Ivan Saponjic (1-1, min. 49), Ante Budimir (2-1, min. 75), Roberto Torres (3-1, min. 86) and Alberto Perea (3-2, min. 90)