Simeone likely to extend Atletico Madrid deal beyond 2020
The coach has not met with Atletico's CEO but communication is fluid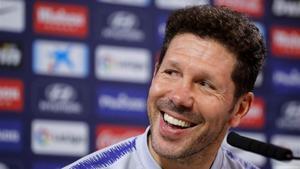 Atletico Madrid coach Diego Simeone says it's been a while since he lunched with the club's CEO Miguel Ángel Gil Marín but that he "is in communication" with him and that "when there's news" regarding his contract renewal he will say.
In an interview with Juventud Rebelde, Gil said recently that the "perfect thing for both parties would be to extend the link" with Simeone, whose deal runs until 2020.
Speaking for the first time since, Simeone said: "With Miguel, it's been a while since we had lunch, so I'm sure we will get together soon. But, yes, we are in communication. And when we have any news or important developments to share, we will do so."
Simeone added: "I don't analyse these type of situations. It's normal that Miguel, from his position, begins to see [these things], because he has a capacity to look to the future like no one else. I have to think about Villarreal."