Elche unable to avoid narrow defeat away to Huesca (3-1)
Huesca victorious as visiting Elche are sent home with no points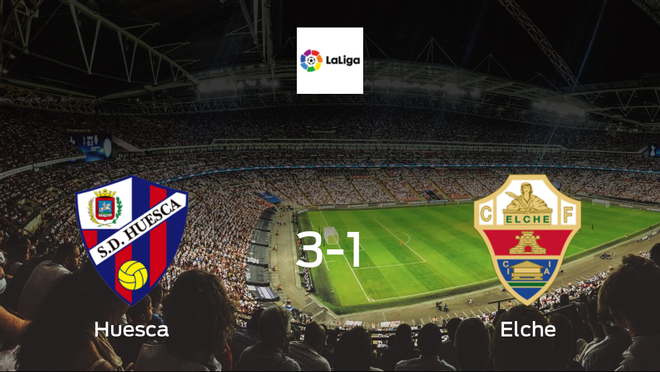 Huesca snatched all three points from Elche in a 3-1 victory on Friday, at El Alcoraz. Huesca were looking to pick up points after winning last match. Elche had managed to pick up a single point in their encounter with Real Betis. As it stands, Huesca are in 16th place, with 27 points from 30 matches, while Elche sit in 18th, with 26 points from 30.
Huesca started strongly in the first half, thanks to an early goal from Rafa Mir in the 3rd minute. However, the good fortune didn't last for long. An equalizer from Denis Vavro in the 4th minute brought Elche level. However, Huesca at the 30 minute mark reestablished their lead following a Sandro Ramirez goal. The first half ended 2-1.
Huesca continued to apply pressure in the second and were rewarded, with Rafa Mir finding the net again just before the final whistle and seeing the game end 3-1.
For Huesca, Sergio Gomez, Dimitrios Siovas, Mikel Rico and Idrissa Doumbia, came on for Sandro Ramirez, Pedro Mosquera, Denis Vavro and David Ferreiro. Elche brought on Helibelton Palacios, Josan, Guido Carrillo, Emiliano Rigoni and Nino, to replace Antonio Barragan, Pere Milla, Tete Morente, Fidel and Guido Carrillo.
There were bookings for Sergio Gomez and David Ferreiro from Huesca. For Elche, Fidel and Gonzalo Verdu saw yellow.
Huesca will next travel to Atletico Madrid, while Elche will face Real Valladolid at home.
Technical card:
Huesca:
Andres Fernandez, Jorge Pulido, Denis Vavro (Mikel Rico, min.65), Pablo Insua, Pedro Lopez, Pedro Mosquera (Dimitrios Siovas, min.65), Jaime Seoane, David Ferreiro (Idrissa Doumbia, min.80), Javi Galan, Rafa Mir and Sandro Ramirez (Sergio Gomez, min.58)
Elche:
Edgar Badia, Antonio Barragan (Helibelton Palacios, min.46), Gonzalo Verdu, Dani Calvo, Johan Mojica, Tete Morente (Guido Carrillo, min.64), Raul Guti, Ivan Marcone, Fidel (Emiliano Rigoni, min.70), Lucas Boye and Pere Milla (Josan, min.64)
Stadium:
El Alcoraz
Goals:
Rafa Mir (1-0, min. 3), Denis Vavro (1-1, min. 4), Sandro Ramirez (2-1, min. 30) and Rafa Mir (3-1, min. 88)