Athletic secure all 3 points, after a win at San Mames
Home crowd rewarded with a win, as Marcelino's team triumph over Getafe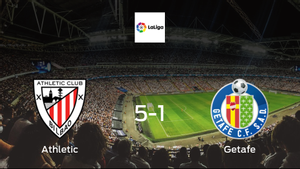 On Monday, Getafe suffer an away defeat to Athletic at San Mames. Athletic Bilbao were looking to get back winning ways, following a previous defeat to Real Madrid. Getafe were hoping to increase their winning streak after back-to-back victories against Huesca and Elche. As things stand, Athletic Bilbao and Getafe sit 9th, (24 points) and 13th, (23 points), in the league respectively, after 20 matches.
Getafe started strong and were rewarded, with early goal from Marc Cucurella in the 1st minute. However, they didn't maintain the lead for long though, an equalizer from a Raul Garcia in the 13th minute brought Athletic Bilbao level, to take a 1-1 lead into half time.
The second half started favourably for Athletic Bilbao, with early goal from Yeray Alvarez in the 50th minute. Later, Athletic Bilbao scored again thanks to another goal from Raul Garcia, scoring his second goal, 61 minutes in to establish the 3-1. Later, Athletic Bilbao scored again thanks to a goal from Alex Berenguer in the 75th minute to establish the 4-1. Later, Athletic Bilbao took the lead with a goal form a goal from Oscar De Marcos in minute 82, which sealed the victory for Athletic Bilbao.
For Athletic Bilbao Inigo Lekue, Mikel Vesga, Alex Berenguer, Asier Villalibre and Unai Lopez came on for Mikel Balenziaga, Unai Vencedor, Raul Garcia, Inaki Williams and Iker Muniain, while Getafe brought on Angel Rodriguez, Mamor Niang, Francisco Portillo and John Joe Patrick Finn to replace Nemanja Maksimovic, Takefusa Kubo, Jaime Mata and Mauro Arambarri.
There were bookings for Unai Nunez, Raul Garcia, Dani Garcia and Unai Vencedor from Athletic and Nemanja Maksimovic, Jaime Mata, Xabier Etxeita and Djene for Getafe.
Athletic Bilbao will next play Barcelona away, with Getafe facing Alavés at home.
Technical card:
Athletic Bilbao:
Ruben Yanez, Damian Suarez, Xabier Etxeita, Djene, Allan Nyom, Takefusa Kubo, Mauro Arambarri, Nemanja Maksimovic, Marc Cucurella, Carles Alena and Jaime Mata
Getafe:
Unai Simon, Ander Capa, Yeray Alvarez, Unai Nunez, Mikel Balenziaga, Oscar De Marcos, Dani Garcia, Unai Vencedor, Iker Muniain, Inaki Williams and Raul Garcia
Stadium:
San Mames
Goals:
Marc Cucurella (0-1, min. 1), Raul Garcia (1-1, min. 13), Yeray Alvarez (2-1, min. 50), Raul Garcia (3-1, min. 61), Alex Berenguer (4-1, min. 75) and Oscar De Marcos (5-1, min. 82)