Football Leaks reveals a full breakdown of Barça's Negreira payments
The Catalan club did not pay Negreira's company between 2003 and 2005
FC Barcelona's payments to José María Enríquez Negreira, former vice-president of the Technical Committee of Referees, between 2001 and 2018 were not continuous. During three seasons (one with Joan Gaspart at the head of the club and the first two of Joan Laporta's first tenure) they did not take place, according to information that appears in new documents accessed by 'Football Leaks'.
According to the leaked documents, the payments began in 2001 (135,218 euros) under the presidency of Gaspart, but were cut when Enric Reyna replaced Gaspart (2002-03) and in the first two years of Laporta's presidency (2003-04 and 2004-05).
The payment relationship resumed in 2005, with Laporta as president. The payments were made to the company NILSAD SCP, which received 221,278 euros in 2006-07, 243,659 euros in 2007-08, 285,398 euros in 2008-09 and 573,398 euros in 2009-10, apparently for increased information services, according to Football Leaks.
During the three and a half seasons in which Sandro Rosell was at the helm of Barcelona, the club paid, according to the aforementioned information, 576,190 euros in the 2010-11 and 2011-12 seasons, 598,690 euros in 2012-13 and 598,940 euros in 2013-14, when Josep Maria Bartomeu took over the Catalan club.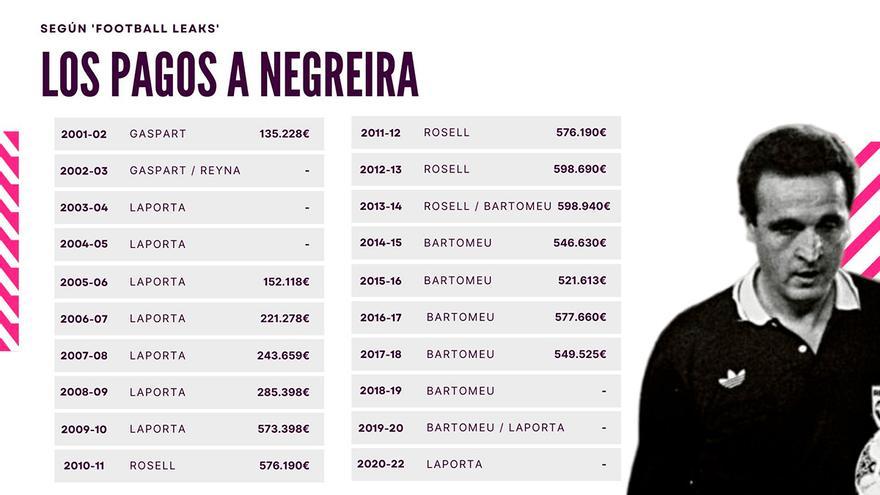 The payments continued under Bartomeu in 2014-15 (€546,630), 2015-16 (€521,613), 2016-17 (€577,660) and 2017-18 (€549,525).
That is when Bartomeu reportedly communicated that the club did not want to continue using the services of Enríquez Negreira's company, which caused the ex-ref to send a threatening burofax.