FIFA, UEFA and other confederations will not recognise European Super League
They will not let players play in the World Cup, the Euros, etc, if they are in a Super League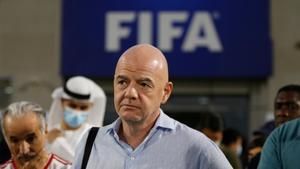 FIFA and the six confederations (UEFA, AFC, CAF, Concacaf, CONMEBOL and OFC) have signed a declaration saying that the creation of a European Superleague would not be recognised.
They would also not allow players who featured in it to play at a World Cup or Euros.
"Any club or player involved in such a competition would as a consequence not be allowed to participate in any competition organised by FIFA or their respective confederation," said the statement.
"As per the FIFA and confederations statutes, all competitions should be organised or recognised by the relevant body at their respective level, by FIFA at the global level and by the confederations at the continental level.
"In this respect, the confederations recognise the FIFA Club World Cup, in its current and new format, as the only worldwide club competition while FIFA recognises the club competitions organised by the confederations as the only club continental competitions."
LATEST EPISODE OF THE BEST FC BARCELONA PODCAST IN ENGLISH