Espanyol relegated to the second division
Barcelona relegated their rivals with a 1-0 win at Camp Nou on Wednesday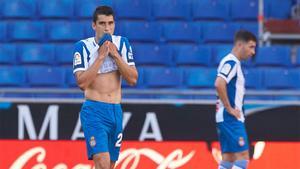 The Perico tragedy is confirmed. After failing to win at Camp Nou, Espanyol go down to the second division, 26 years later, after a season to forget, the worst in all their history.
They last were relegated in the 92-93 season, but only for a single season before returning. That's always been the case with them, they bounce back up.
Last time they went down, under Diaz Novoa, they arrived in the spring with hopes of even reaching Europe. But in the last 11 weeks they were only capable of a draw and went down deplorably.
Ironically back then Quique Setien was playing for Racing Santander, the team that sent Espanyol down. Now he's on Barca's bench and has done the same thing.