Arturo Vidal defends Messi and joins in the criticism of CONMEBOL
The Chilean international believes Messi was unfortunate to get sent off and claims VAR isn't being used correctly in South America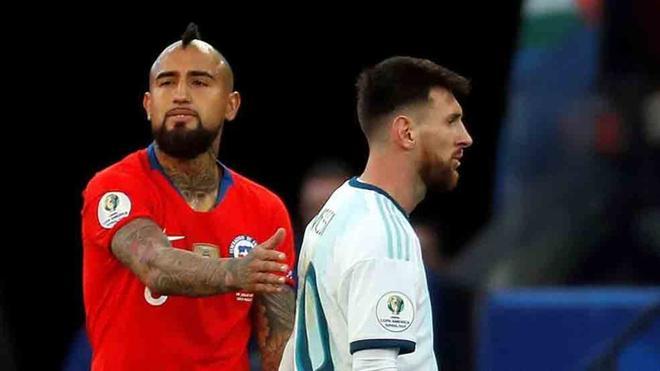 FC Barcelona and Chile midfielder Arturo Vidal has come out in defence of Lionel Messi after he was sent off in the Copa America third place play-off. Vidal didn't hold back from criticising the tournament, the officials and the use of VAR in South America competitions.
"I believe Argentina were hard done by against Brazil. It was unfair. The same thing happened to us when they sent us to a hotel which was two hours away from Colombia's stadium," insisted Vidal.
"The referee wanted to be more important than the match itself. How are you going to send off two captains for pushing each other a little? It was clearly a heat of the moment thing. No one raised their arms to the other's face. It was nothing serious. Two people going chest to chest can't be a red card," believing Messi was harshly sent off.
"Argentina were clearly hard done by against Brazil. VAR is managed in another way in Europe. In South America, they still need to learn (to use it better)."