CONMEBOL release strong statement in response to Messi's criticism
The Barcelona star called the competition corrupt after refusing to collect his third-place medal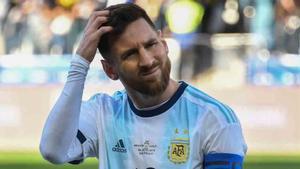 The Confederación Sudamericana de Fútbol (CONMEBOL) call Lionel Messi's comments "unacceptable" and "unfounded accusations".
Messi was sent off in the 37th minute after Gary Medal pushed him repeatedly. The greatest of all time refused to go up and accept his third-place medal as he "didn't want to be involved in the corruption" at the Copa America.
"It wasn't something small. We don't want to be part of this corruption. They've shown us a lack of respect throughout this tournament. We leave with the feeling we deserved more having produced our best performances against Brazil and today (against Chile)."
Following Argentina's elimination from the competition against Brazil in the semi-final, Messi said: "Brazil control a lot of things at CONMEBOL."
When asked if Brazil would win the Copa America, Messi didn't hold back either. "I don't think there are any doubts. Sadly, I think it's made for Brazil. Hopefully, VAR and the referees don't make a difference in the final and allow Peru to compete. They have a team to do that but I think it'll be difficult."
A few hours late CONMEBOL released a statement where, without mentioning Messi by name, called accusations "unacceptable" and said suggestions corruption was involved were "unfounded accusations and "lacked the truth".
"In football, sometimes you win and sometimes you lose. It's a fundamental part of fair play to accept the results with honour and respect. The same goes for the referee's decisions. They are human and always try to do things correctly."
Comunicado Oficial pic.twitter.com/x6DE1emoSQ

— CONMEBOL.com (@CONMEBOL) 7 de julio de 2019
"It's unacceptable that, in a competition where 12 national teams have been involved, in the same conditions, that unfounded accusations are made which lack the truth and intend to damage the integrity of the Copa America," continued the statement.
"These accusations represent a lack of respect to the competition, to all the players involved and CONMEBOL's professionalism. An institution that's worked tiredlessly since 2016 to be more transparent, professional and aid the development of South American football."