Klopp doesn't rule Salah out of secong leg vs. Man City
The German coach hopes the forward will be fit on Tuesday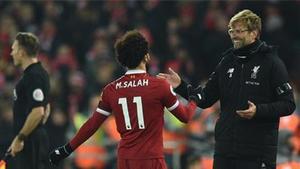 Jurgen Klopp is waiting on his best man. Egypt star Mohamed Salah is still recovering from the injury which forced him off against Manchester City last week in the Champions League and it's not clear if he will return for Liverpool for Tuesday's second leg at the Etihad Stadium.
The 3-0 advantage Liverpool hold from the first leg means Klopp doesn't have to risk Salah unnecessarily, although he hasn't ruled him out definitively: "I am not sure 100 percent sure (if he will be back). We train at 5pm at Melwood. It is rather yes than no but we have to see. We will train and then make a decision."
After the first leg, City will have to come out all guns blazing in order to turn the tie around. Therefore, Klopp will take precautions and will pay a lot of attention to his side's defence. But knowing that one away goal could sentence the tie, Salah's presence could prove key for Liverpool.
Without the Egyptian against Everton on Saturday, Liverpool were held to a goalless draw and Klopp took it as a warning. He also talked up Man City's first-half showing against Manchester United, despite the fact they went on to lose the game: "In the first half of a game against one of the best sides in the world, they could have scored six. We will have to be at our best again."