Ivan Rakitic: The only thing that interests me is that we keep winning
The Croatian was chosen as man of the match in the Champions League clash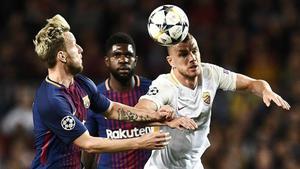 Ivan Rakitic was chosen as Barcelona's best player in the 4-1 win over Roma in the Champions League. Asked about it, he said: "Well, thanks very much. The only thing I want is to help the team and to be available for them to count on me."
Rakitic hit the post in the first half with an effort against the post. However he didn't care that he didn't score because the team won.
"The only thing that interests me is that the team keeps winning. We keep winning and growing in each game. Now the best is to come and at the same time it's the toughest time of the season. I want to enjoy it with my team-mates.
"In their (Roma's) stadium I'm sure they will pressure us. So we have to have a game like today, so that we can reach the semi-finals."