Champions League 2020-21 group stage draw results
The draw was conducted on Thursday and Barca were paired with Juve, Madrid with Inter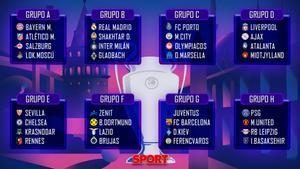 The Champions League 2020-21 draw was conducted on Thursday and threw up some interesting fixtures. Barcelona were able to avoid their most recent executioners in Europe, Bayern and Liverpool, but were put into Juventus's group, along with Dynamo Kiev and Ferencvaros.
Atletico Madrid must play against reigning champs Bayern, as well as Salzburg and Lokomotiv Moscow in a tough group.
Real Madrid were fortunate to get Shakhtar Donetsk but then Inter Milan and Borussia Monchengladbach came out of the hat to create a well-rounded group.
HERE ARE THE UCL GROUPS
Grupo A:
Bayern
Atlético
Salzburg
Lokomotiv Moscow
Grupo B:
Real Madrid
Shakhtar Donetsk
Inter
Mönchengladbach
Grupo C:
Porto
Manchester City
Olympiakos
Olympique Marseille
Grupo D:
Liverpool
Ajax
Atlanta
Midtjylland
Grupo E:
Sevilla
Chelsea
Krasnodar
Rennes
Grupo F:
Grupo G:
Juventus
Barcelona
Dynamo Kiev
Ferencvaros
Grupo H:
PSG
Manchester United
Leipzig
Istanbul Basaksehir