The secret pact between Barcelona and Griezmann over summer transfer
Both parties have agreed on a clause in the case the deal is broken
Griezmann will join Messi, Dembélé, Coutinho & Suárez in Barça's attack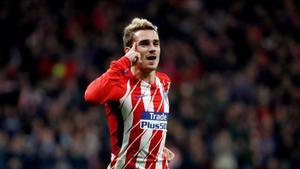 Barcelona have their first signing of the 2018-19 season tited down: Antoine Griezmann. The Atletico Madrid forward has reached an agreement with the club and will be playing under Ernesto Valverde.
The signing of Griezmann has been a slow-burner and has been carried out by Josep Maria Bartomeu. The president is a big fan of the France star.
SPORT can reveal that if either Barça or Griezmann pull out of the deal, there will be a punishment for breaking the pact. That's to say, if Barça don't sign him or if he goes somewhere else, say Manchester Unuted, there will be a financial loss.
It's still not known how the deal will happen. Barça will try to negotiate with Atletico so that they don't have to pay the 100 million euros release clause.
The relationship between Bartomeu and Gil Martin is excellent. That can be seen in the Arda Turan deal and the talks which, briefly, took place over Saul Niguez.
That said, it won't be easy. In December, Atletico complained to FIFA about Barça's move for Griezmann, deeming that the Catalan club had overstepped the line in their pursuit of the forward.
Griezmann's transfer will likely happen during the World Cup in Russia. The transfer market opens in July, with the tournament in Russia starting in June.