The five keys to Barcelona's signing of Brazil star Philippe Coutino
Coutinho's desire to complete the move was one of the big keys
The Brazilian said no to PSG to force through a move to Camp Nou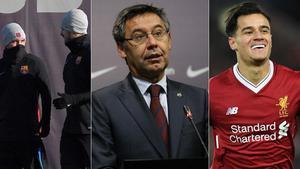 Philippe Coutinho's arrival at Camp Nou is a personal triumph for the Brazilian crack. Barcelona weren't able to sign him in the summer due to Liverpool's reluctance to sell, but they have finally done a deal for him.
Here are the keys to the signing of the Brazil international, who wants to make a mark at Barça like compatriots Romario, Rivaldo and Ronaldinho have in the past.
1.- DETERMINATION TO JOIN BARÇA
The transfer has been in the works for 18 months, but it's been Coutinho himself who has put the most pressure on his family and his people to help him convince Liverpool to sell.
Coutinho handed in a transfer request in August and didn't play in the Champions League qualifiers, telling Jurgen Klopp he wanted to leave.
In September he decided not to take the drastic decision to not play in the group phases of the Champions League, returned to training and acted professionally while waiting for a January move.
When it was time, he put pressure on Liverpool again and made it clear he wouldn't play for the club again.
2.- NEYMAR'S DEPARTURE
SPORT explained at the end of May Coutinho had doubts about signing for Barça. The Brazilian felt he wouldn't play the big games because of Neymar and Andres Iniesta's presence. Therefore, he felt it would it would be better to remain at Anfield until 2018.
However, Neymar's move changed things. Despite the two being close friends, it didn't change Coutinho's mind about a move because it meant he could occupy his natural position and work with Iniesta.
Without Neymar, Coutinho now doesn't have to switch to the right flank, like he does with Brazil, since the appointment of Tite.
3.- NO TO PSG'S MILLIONS
Paris Saint-Germain asked Coutinho not to sign for Barcelona now and to wait until after the World Cup.
Qatar Sports Investments are currently trying to manage Financial Fair Play. That's one of the reasons Barça pushed through with the deal now, rather than waiting, even though he can't play in the Champions League.
Coutinho was told he'd be the second top earner at PSG, behind Neymar. The idea of Ligue 1 did not seduce, though.
4.- POTENTIAL TO EXPLOSE
Coutinho will offer the best years of his career to Barcellona. Born in 1992 -- the same year as Neymar -- he arrives as a 25-year-old, full of talent and with room to improve.
Those arguments explain why Barça have invested 160 million euros in him. His mission, beyong rejuvenating the squad, is to help lead the project alongside a maturing Lionel Messi.
Barça feel there's no other player on the market who can offer as much as the Brazilian playmaker.
5.- BARÇA STARS WANTED HIM
Through Luis Suarez and more recently Paulinho, the Barcelona dressing room have verbalised the need for the signing of a crack. Suarez has done with Coutinho what Dani Alves did back in the say with Neymar. And all the players blessed the signing, believing the ex-Liverpool man will add a huge amount of quality to the side.