Sergi Roberto: "If we play well, maybe Messi will stay at Barça"
As one of Barça's captains again this season, he feels Luis Suarez's exit could have been handled better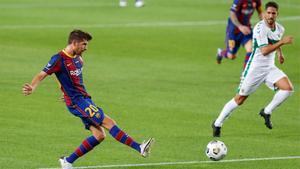 FC Barcelona's Sergi Roberto gave an exclusive interview to 'Ara' where he spoke about current events at the club. He gave his thoughts on the aftermath of the 8-2 defeat against Bayern Munich, Luis Suarez's departure and the rumours surrounding Lionel Messi's future.
Luis Suarez's exit
"For me, as a teammate, I would've liked him to stay. But in the end we all have to make our own decisions. This was made from above and we have to respect that."
"I don't know how the conversations between Luis and the club went but it's true that they could have advised him ahead of time and not over the phone. It's a real shame he couldn't say goodbye to the fans."
Messi'S CRITICISM
"It's normal. For Leo, Luis is like a brother. They spent all day together. He didn't want to see him leave. I hope as the days pass he'll begin to feel better and we can count on Leo to win trophies. In the end, it's like when you split from your wife or your best friend. They are complicated processes. Now it's up to his teammates to make him feel wanted."
the Barça-Messi crisis
"I didn't know anything (about Messi asked to leave last season). And when it came out in the news (the burofax) I couldn't believe that Leo didn't want to stay here. I wish it wasn't like that. With him, we're stronger and I'm delighted that he's staying in the end."
"He said he's only staying for one more year but, if we play welll and we win trophies, who knows if he'll change his mind? If we achieve that, even better."
"It's a very complicated situation. The player looks for his best interests and so do the club. It's difficult to reach a balance where everyone is happy. In Leo's case, it's special. He's been here for 20 years and given his all for this shirt."
PROBLEMS BETWEEN THE PLAYERS AND THE BOARD
"It's like any business. Things go better and you work harder if there's a good relationship amongst the employees."
"I want Barça to do well. I don't know if the president comes into the dressing room or not. I want the team to win trophies, have homegrown players and that supporters are happy and feel represented. I want a president who wants the best for the club."
Ronald Koeman
"I've got a lot of very good feelings. He's changed the style of play and the training sessions are tactical to fix aspects of our game from last season."
AFTERMATH OF THE DEFEAT TO Bayern
"It's difficult to forget that result, although we shouldn't forget all of it, because I'm sure that it will make us much stronger throughout this season. It's difficult to find an explanation. They quickly scored the second goal and after that, we went down. We saw that in Anfield Anfield (4-0) and against Roma (3-0). Psychologically we were affected and we didn't know how to get over it."
"We were all distraught. We didn't know where to go. Now a new season begins and we've got to learn from what happened in Lisbon."
Riqui Puig AND Carles Aleñá ARE STAYING
"From my personal point of view, they are doing well. I was in the same situation as them during my early years, didn't play much, and in the end I got the chance to play more, although in a different position. Puig and Aleña have a lot of competition but the season is long and I'm sure they will get chances. And when they do arrive, they have to take advantage of them."
20,000 signatures in the vote of 'no confidence'
"That shows there are a lot of people who aren't happy with how they are doing things. But ahead of being a season ticket holder, I'm a footballer. For those reasons I have to focus on football. I don't want to talk about the other topics and areas of the club."