King of the leagues: Barça's Arturo Vidal hunting for ninth consecutive title
The midfielder's had success with Juventus, Bayern Munich & FC Barcelona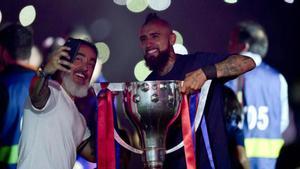 Arturo Vidal already knows what it feels like to win the league with Barcelona. He was part of the side that won the title last season. In fact, he's finished top of the league in each of the last eight seasons, regardless of who he was playing for.
He's the only player to achieve that with three different clubs and, in addition, in Europe's major leagues. The run began in 2011-12 with Juventus and goes on to this day. He wants more. He wants his ninth, something in the reach of very few players.
Two former Juve teammates could join him: Gianluigi Buffon and Giorgio Chiellini have also won eight in a row. Buffon won one of them with PSG before returning to Juve, where Chiellini's been the whole time.
Arturo's dream
Vidal can boast of a number of trophies but he's kind of the leagues. Because as well as his 'poker' with Juve, he went and one three-in-a-row with Bayern. Then he continued the run with Barça.
"It would be a dream to win nine leagues in a row, because achieving a record with that many titles is very difficult. I still feel good and will continue fighting and winning trophies. Few players in history have done this and I'm proud. I hope to win the ninth here with Barça," he told the club's official media.
If he achieves it, he will match current Alaves player Ljubomir Fejsa, who's run was ended by Porto in 2018 as they knocked Benfica off top spot in Portugal. Ahead of him is an almost unreachable record: Vitali Rodionov won 12 in a row with BATE. But for Vidal, nothing is impossible.
Rakings
12 consecutive league titles
Vitali Rodionov (retired): Bate Borisov from 2005-2006 until 2016-2017
9 consecutive league titles
Ljubomir Fejsa (currently at Alavés): Partizan 2008-2009, 2009-2010 & 2010-2011; Olympiacos 2011-2012 & 2012-2013; Benfica 2013-2014, 2014-2015, 2015-2016 & 2016-2017
8 consecutive league titles
Arturo Vidal: Juventus 2011-2012, 2012-2013, 2013-2014 & 2014-2015; Bayern 2015-2016, 2016-2017 & 2017-2018; Barça 2018-2019
Gianluigi Buffon: Juventus 2011-2012 to 2017-2018 & PSG 2018-2019
Giorgio Chiellini: Juventus 2011-2012 to 2018-2019
Andrea Barzagli (retired): Juventus 2011-2012 a 2018-2019
Claudio Marchisio (retired): Juventus 2011-2012 to 2017-2018 & Zenit St. Petersburgo 2019