'If I was a sporting director I would sign Coutinho from Barcelona'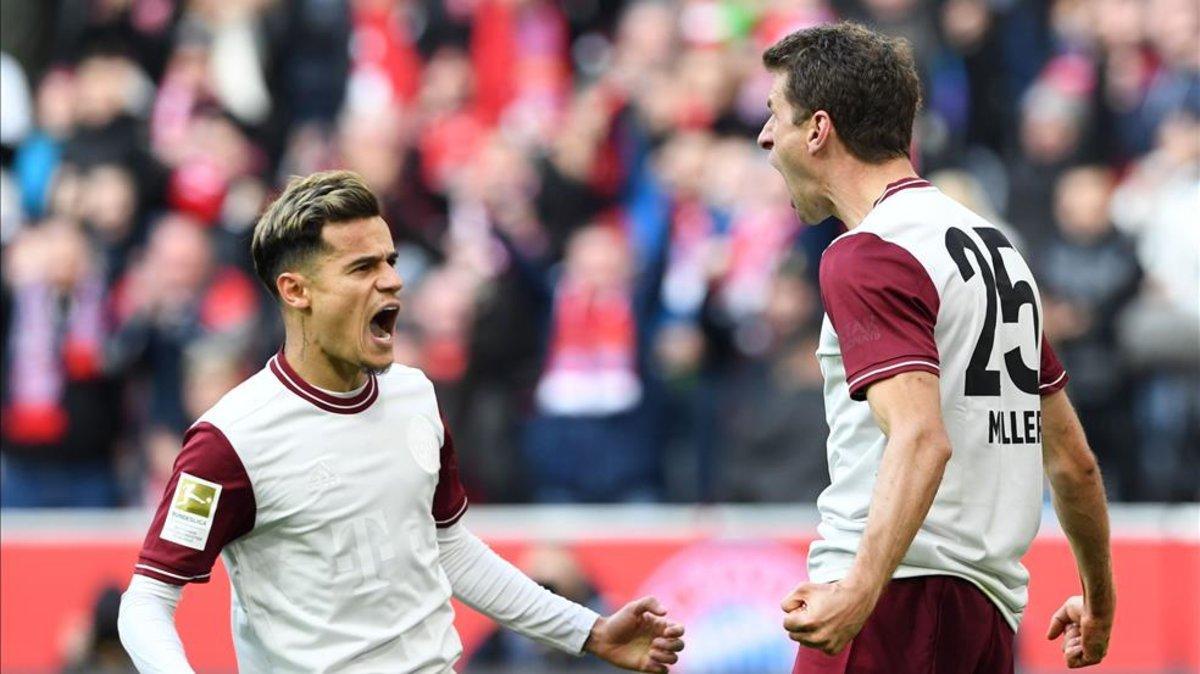 Owen Hargreaves feels the Brazilian would be ideal for the Premier League
Owen Hargreaves, the former Bayern Munich and Manchester United midfielder, says he would sign Philippe Coutinho if he was the sporting director at a club.
Coutinho joined Barca from Liverpool for 160 million euros in 2018 but is currently on loan at Bayern Munich, who are unlikely to take up their option to sign him.
Barca are still looking to sell the Brazilian, though, with the Premier League the most likely market, and ex-England international Hargreaves remains a fan.
"I love his game, I love him as a player," Hargreaves said in quotes ran by The Mirror. "He is obviously going through a bit of a tough time after leaving Liverpool.
"Barca didn't work and Bayern hasn't really worked, but there is still plenty of time and I would never count him out. I would love to see him back in the Premier League. He makes a lot of teams better.
"Premier League teams are probably the only ones with the capacity to sign him and, let's be honest, when he was here he was a dream to watch.
"If Liverpool are missing one thing it is probably a No 10-ish player. I know they probably don't need him because that front three are so good as is the balance in midfield.
"There are a lot of rumours about Chelsea, even Man United. There are a lot of teams where if I was sporting director, surely his name is on a lot of teams' lists to come in and make a big impact."
Coutinho is currently injury and is out for about six weeks, so he may not play again this season, with the Bundesliga resuming this weekend.
Owen Hargreaves, ex jugador del Bayern Munich, Manchester United y Manchester City, augura un gran éxito a Philippe Coutinho en el caso de que decida regresar a la Premier League. En declaraciones a 'The Mirror', el ex jugador considera que "amo su juego, lo amo como jugador. Obviamente está pasando por un momento difícil después de dejar Liverpool. En el Barça no funcionó y en el Bayern realmente tampoco, pero todavía hay mucho tiempo y nunca lo descartaría. Me encantaría volver a verlo en la Premier League. Hace muchos equipos mejores".
Considera que "los equipos de la Premier League son probablemente los únicos con la capacidad de ficharlo y, seamos honestos, cuando estuvo aquí fue un sueño verlo. Si al Liverpool le falta una cosa, probablemente sea un jugador No10. Sé que probablemente no lo necesiten porque los tres delanteros son tan buenos como el equilibrio en el mediocampo", declaró.
Indicó que "hay muchos rumores sobre Chelsea, incluso Man United. Hay muchos equipos en los que si yo fuera director deportivo, seguramente su nombre estaría en la lista de muchos equipos para entrar y tener un gran impacto".
"La pregunta es, ¿lo vuelve a ceder en préstamo o es una venta, porque no parece que vaya a quedarse en Barcelona?".
La ex estrella del Manchester United e Inglaterra Hargreaves, ahora analista de la Bundesliga para BT Sport, cree que la forma de Thomas Muller ha matado las posibilidades de Coutinho en el Bayern. "En un mundo perfecto, creo que esperaban que hubiera funcionado, pero no ha funcionado. Probablemente solo basado en Thomas Muller. Su forma ha sido tan buena. Muller acaba de ser uno de los mejores jugadores de toda la Bundesliga. Afecta los juegos y si tienes a alguien anotando dos y configurando dos en cada juego".
"En el pasado, el Bayern jugó contra tres centrocampistas centrales y en un mundo perfecto habrían jugado contra Coutinho, pero Thomas tuvo la mayor cantidad de asistencias en la Bundesliga y en el Stamford Bridge en la Liga de Campeones fue increíble".