EXCLUSIVE: The LFP will not accept Neymar's release clause being paid
The LFP considers that in Neymar's situation the clause can't be paid
As much for the contractual problems of the player as Financial Fair Play regulations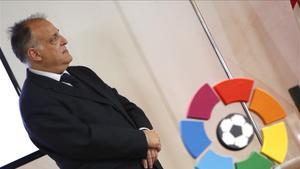 A new actor has entered the stage in the Neymar case. The LFP have decided that they will not allow Neymar's release fee clause to be deposited in their offices. The reason is because of Neymar's contractual problems: the payment for Neymar's signing on fee is currently with a notary. And also because of potential 'financial fair play' rule breakage which might occur if Neymar's clause was paid.
Javier Tebas said: "Although PSG didn't pay the clause we will denounce them. We advised the PSG president what we were going to do and we saw PSG's policy continue along the same line. They cannot make a number in which their commercial rights are greater than those of Real Madrid and Barcelona. Nobody believes this."
SPORT have learned from club sources that La Liga will not allow the player's clause to be triggered and they consider Neymar 'blocked', at least provisionally because of possible financial fair play problems as well as the contractual issue.