Koeman's personal objective is to get the best out of Ousmane Dembele
The Dutch coach is paying close attention to Ousmane Dembele's fitness plan and wants to make him a regular member of his XI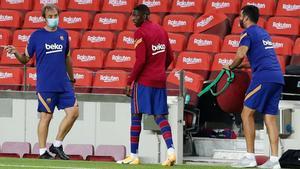 Ousmane Dembele is the second most expensive signing in FC Barcelona's history and despite being about to embark on his fourth season at the club, he's yet to create the impact many expected from him. Injuries have been the main reason behind that. Some felt Dembele was a lost cause and it was best to part ways but Ronald Koeman is determined to be the man who turns Dembele's career around.
From the very first moment, Koeman made it clear to Ousmane that he believed in him. For the Dutchman's system to work he needs fast, agile wingers with the ability to beat their marker. Dembele ticks all those boxes but it doesn't matter what quality you possess if you break down and miss months of the season. That's why the winger needs to be protected.
Koeman, via the fitness coaches, are working on a detailed plan to keep Dembele fit and available. All modern day footballers have a specific fitness and nutrition plan but a special one is needed for Ousmane.
Special work to manage Dembele's explosiveness
That is why he could appreciate being rested for the Gamper trophy. Dembele was the only substitute who did personal work alongside Albert Roca and Dani Benito, working on controlling his sprints with cables and using a medicine football. As Ramon Cugat revealed to SPORT, Dembele's muscles are strong and long which allows for that explosiveness but also comes with an increased injury risk if not controlled properly. The recent session with Dembele became public knowledge but it's something Koeman and his team have worked on in every training session.
Ensuring his minutes are managed properly
Koeman must have a lot of faith in Dembele to make him part of his starting lineup. Stylistically, he fits what the new coach wants but Koeman is known for demanding a lot from his players. Ousmane will be monitored both on and off the pitch to ensure he follows the plan designed for him. If Koeman is able to recover the best version of Dembele, the Frenchman will be the signing of the summer.