Barcelona target Coutinho and his relationship with Catalonia
Alongside Neymar, he played at the MIC tournament in 2008
He then spent half a season on loan with Espanyol in Barcelona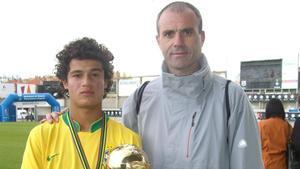 Neymar and Coutinho have opposite personalities: the Barcelona star is spontaneous and extroverted; the Liverpool man is shy and an introvert, a long way removed from the characteristics which usually apply to players from Rio de Janeiro.
Their relationship has continued to grow since they played together in Brazil's youth teams, especially since the 2008 edition of the MIC (Mediterranean International Cup), which takes place on the Costa Brava.
A few years later Coutinho would be back in Catalonia, joining Espanyol on loan and getting to know Barcelona a little better.
Toni Lima, a collaborator with the MIC, had not only focused on Neymar at that tournament, but also on Coutinho. He had a big say in the early years of his career, first recommending him to Inter Milan when working as a scout for the Italian club and then helping Espanyol take him on loan.
The operation was done in 2012 and Coutinho's secondary role in Italy became a starring one in La Liga. It was a brave move from the Catalan side but one which paid off. Espanyol got to enjoy a fine footballer who showed he could shine at the top level.
It also allowed him to get to know Barcelona, a city in which he found everything he needed. A model professional, the Brazilian doesn't usually see the night, but ht knew how to enjoy the Ciudad Condal close to the sea.
In June he will turn 25 and, while he's young, he is more than prepared. He has already demonstrated as much in three of Europe's biggest leagues: Italy, Spain and England, where he is one of the Premier League's best players.
He is happy at Liverpool and grateful for how they've nurtured his career, but he's not forgotten his time in Barcelona, even if his manager Jurgen Klopp suggests otherwise.
Not just would he be returning to a city which has all his needs, but he would also be reunited with Neymar, one of his best friends in football for many years. And also with Luis Suarez, another Barça player he has a great relationship with from their days at Liverpool together.
In fact, when Barça played Manchester City earlier this season, Coutinho travelled to Manchester to meet the Uruguayan.