Argentina: Nobody will play with Lionel Messi's No 10
With Lionel Messi not in the squad, nobody will step into his shoes and wear the shirt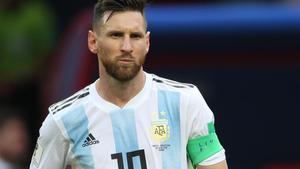 The Argentina national team will play their first friendly after being eliminated from the 2018 World Cup. Lionel Scaloni is in charge of 'renovating' the Albiceleste. On the pitch they will not have Lionel Messi - or anybody wearing his shirt. No player will wear the No 10 of the captain while he is sitting out some fixtures. That is what the coach said, having agreed it with the AFA.
It's not just a detail, it's recognition of his delivery and love for the white and blue, a nod to him that his place is ready for him when he wants to come back.
Argentina play Guatemala in LA and Colombia in New Jersey, in friendlies, and the No 10 will not be worn by anyone.