Marca: Tottenham Hotspur offer Eriksen to Real Madrid
The English side are now willing to sell Eriksen for around €70m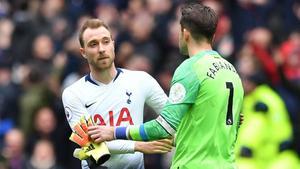 Paul Pogba remains the priority signing for Real Madrid after Zinedine Zidane personally asked for a deal to be done. Florentino Perez is doing the best he can to make a transfer happen but it's proving difficult.
Due to those difficulties, the club has started to look at alternatives should Pogba prove impossible. According to today's 'MARCA', Tottenham Hotspur have offered Christian Eriksen to Madrid for around €70m.
The English club apparently spoke to Jose Angel Sanchez, Florentino's number two, to let them know that Eriksen would be available for the right price. It would be a remarkable drop in price from Spurs as their chairman, Daniel Levy, asked for €150m last summer. But with just 12 months to run on his deal, it might play into Madrid's hands.