Josep Pedrerol column: From Guti to Vinicius Jr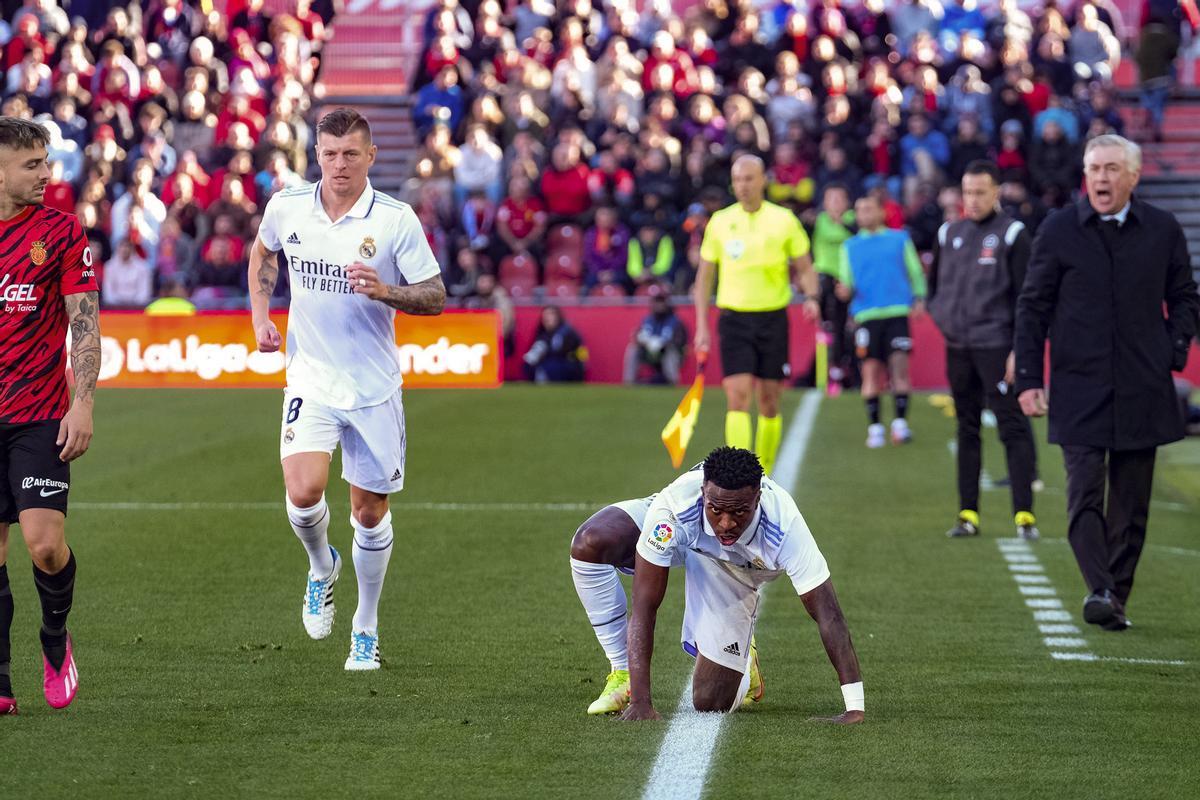 Seventeen years ago, it had already rained, Javier Aguirre, then coach of Atlético de Madrid, designed a plan to stop the most brilliant and different player of that Real Madrid: José María Gutierrez, 'Guti'. It consisted of making constant fouls to stop his play dead, but without being too noticeable. Something light and discreet, with different offenders, to make sure they finished the game with eleven players. That day, Guti received ten fouls from the players coached by Javier Aguirre. Curiously, the same that Vinicius suffered yesterday in Mallorca. On the rival bench, of course, the same Javier Aguirre, with some more gray hair and many more battles fought. The Mexican has been in football for almost as long as football has existed itself: he knows it all, makes the most of any squad and is a specialist in guerrilla warfare, in which little football is played. Mallorca, who left Madrid damaged in La Liga with their victory, committed 29 fouls. And most of them, as we said, were once again committed on Vinicius.
His speed, power and skill make him an extremely difficult player to stop. The recipe to do so is rough marking, yesterday he had to deal with Maffeo and Raíllo, no less, and all kinds of actions pushing up to the limit. Pushes, blows, kicks.... But there is more. Opponents know that the Brazilian is hot-blooded, he does not shrink away from kicks or provocations, and they look for him to take him out of the game, to protest to referees and end up igniting the opponent's fans. Without going any further, yesterday, in a gesture that was unnecessary, he showed off the Madrid badge to the fans when he was walking off at half time (Raillo took it personally and returned the gesture directly to Vinicius). The Brazilian has a lot of personality, there is no doubt about it, he already put the team on his back in his first season, when he was only 18 years old, when the ball was 'burning' the other players, he wanted it. At that time, he lacked accuracy, an issue that has improved and that makes him Real Madrid's most fearsome player. Now he keeps asking for the ball non-stop and Mallorca's goal was to stop him with feet, arms, gestures and words, to get him out of his mind. In spite of that, he was the best player. It's worrying that a player surrounded by two or three rivals was still the best.
Whistles and applause
Valencia, without Gattuso, sinks even further. It's time for the footballers to show their faces once and for all. And united. Divided, as Captain Gaya warned, everything could get worse. Decline looms.
An ugly gesture from Iago Aspas against Betis. He faked an blow on the face that ended with the expulsion of Luiz Felipe. Rare for him, an idol can't do these things. Let alone not immediately apologize publicly.
Valladolid sours the Champions League dreams of Real Sociedad. Imanol's team had the opportunity to distance themselves from their rivals, who had slipped up, but Pacheta's Valladolid insisted on their bid to stay in the top flight. A lot merit deserved.
A desperate situation in Malaga. Another defeat, another game without scoring, again a team without a soul, with fear and moving aimlessly. The situation is critical, but there are still many points at stake.