Paris Saint-Germain's suspicious silence over Neymar's future
The French club have broken off talks over a new deal with the Brazilian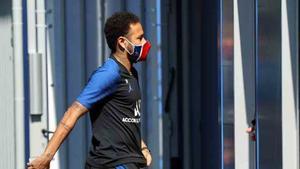 Paris Saint-Germain have no intention at the moment to deal with Neymar's contract situation. They feel that he has time to run on his deal and they're now worried about the possibility of him leaving for free in 2022.
In this sense, L'Equipe report on Saturday that Leonardo, the club's sporting director, has no plans to speak with the Neymar camp, despite the fact they have been waiting for a meeting for a while.
While both parties had programmed a meeting before the coronavirus pandemic struck, in the middle of March, now talks have completely stopped.
It remains to be seen if the return to training and the rest of the season -- PSG still have a cup final and the Champions League to play despite Ligue 1 ending -- will see Leonardo change his plans, but it seems clear his focus is on Kylian Mbappe's new deal.
With Neymar, there's been nothing despite the fact his deal ends in 2022. They have left it for the future, with Neymar's stance still that he wants to return to Barcelona if it is possible.
The silence on PSG's behalf regarding Neymar is surprising, although everything indicates that they won't let him run down his deal until 2022. They will look for a renewal at some point.
According to the same report, PSG are looking for solutions to the Mbappe case and the Neymar case, but also with players like Di Maria, Draxler and Jese. Di Maria wants to stay, while Draxler is out of contract in 2021 and the club don't want him to go for free, like Cavani, Thiago Silva and Kouassi this summer.
Finally, they will look to move Jese on. The former Real Madrid striker has one year to run on his deal in Paris.