Barça's Abel Ruiz: If there are no opportunities, you have to look elsewhere
The young striker spoke to EFE while with the Spain U21 squad in Madrid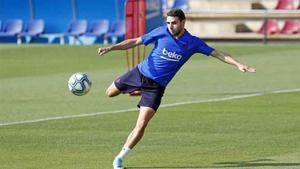 Abel Ruiz (Valencia, 2000) says he will give his all to make it at Barcelona but admitted he could be forced to look elsewhere if his chance in the first team does not arrive.
The Barça B striker, speaking to EFE from the Spain U21 camp, had options to leave in the summer but opted to remain with the club's reserve team in the third division.
He's happy with that choice for now but sooner or later -- in the winter or next summer -- he may have to decide what's best for his future.
"It's not that I didn't want to stay," he said. "I have always said that my first choice is Barça but it's true that if you want to keep growing and improving you have to look for what's best for you.
"In this case, the decision was to stay in Segunda B and keep growing as a player and person while waiting for chances in the first team.
"I work day-to-day and take things step-by-step. I think the secret is to take things slowly. The opportunities will arrive and you have to be ready, which is what we are all trying in the academy.
"I have always said that I want to be at Barcelona and I want to grow as a player and person at this club because they've given me everything since day one.
"As long as they have confidence in me, I am going to have confidence in them but if in the end you don't enjoy the type of opportunities you desire, you have to look elsewhere for those minutes and competitions."
One player who has had first team chances this season is Ansu Fati, who is also in the Spain U21 squad along with Ruiz.
"He's a young kid, much younger than me even," Ruiz said of the 17-year-old. "I've been lucky to have him close in La Masia and I've been with him for four or five years, even sharing a room with him and I am so delighted (for the success he's had)."