Yerry Mina scores twice for Colombia in front of Barça's Robert Fernandez
The Barcelona sporting director was checking in on the centre-back
Mina scored twice in his country's comfortable win over Cameroon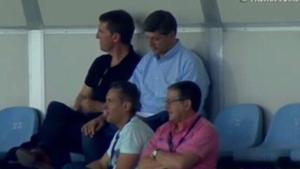 Barcelona sporting director Robert Fernandez was in Madrid on Tuesday to watch central defender Yerry Mina play for Colombia against Cameroon in a friendly. And Mina produced a stunning performance, scoring twice as well as commanding his side's defence. Barça have an option to sign him for nine million euros and must make a decision in the coming months.
Robert wanted to see Mina live, something he's not been able to do in Brazil in recent months. Barça have excellent reports on the player. He currently belongs to Palmeiras, but Barça have an option to sign him in the future. The idea was to continue to follow him and then take a decision in the future, but the player's progression has forced them to confirm their intentions sooner.
The idea now is for Yerry Mina to continue in Brazil until the end of 2017, but various English clubs are also interested. Without doubt, following his performance against Cameroon there are bound to be more rumours. Robert likes him as a player but is still not convinced if he is the defender Barça need. In any case, his presence in Getafe on Tuesday did not go unnoticed by the Colombian press.