Víctor Font: "Changing the manager doesn't solve the crisis at Barça"
One of the candidates for the Barça presidency spoke exclusively to SPORT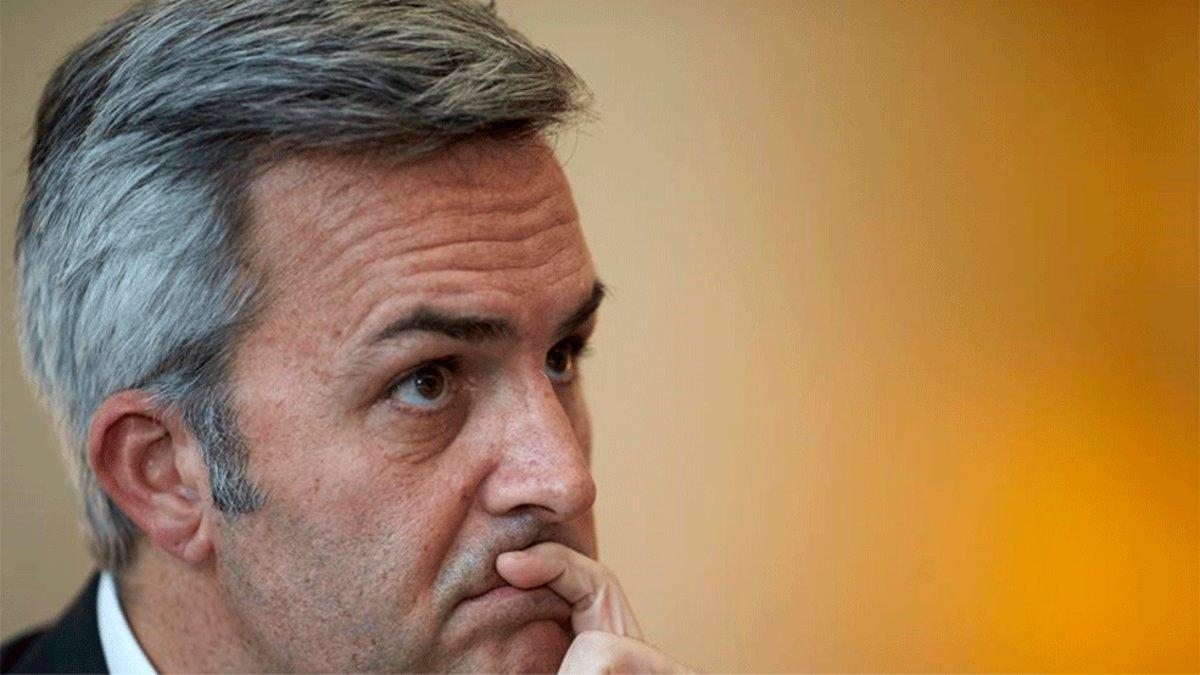 It's been a week to forget in a season to forget at FC Barcelona. The crisis at the club, from top to bottom, has called for serious and important decisions to be made in order to right the wrongs of the past few years. Josep Maria Bartomeu has decided to stay on as Barça's president and has named Ronald Koeman as the new manager. Victor Font, who hopes to replace Bartomeu at the next elections, spoke exclusively to SPORT about the current state of the club.
Koeman was presented as Barça's new manager yesterday. What do you think about that decision?
Changing the manager doesn't solve the sporting, institutional and economic crisis at FC Barcelona. It's an escape route for Josep Maria Bartomeu and his board of directors. It's absolutely vital we wipe the slate clean and start again.
We are talking about a Barça legend.
It's true, he is, and we have to thank Ronald that, even in a situation like ours, he was willing to take on the responsibility. I wish him the best. He's got personality and came from the Dream Team, so learnt from Cruyff.
But he wouldn't be your coach if you won the elections in March 2021...
I've read some headlines that have put words in my mouth. Some suggesting that even if he won the treble next season he wouldn't be my coach. That sentence needs some context.
Okay, so explain...
We believe in a 10-year project at the club and it isn't built around just one name. The manager at Barça is a very important figure, yes, but that's only one piece in a much more complete and complex structure. For us to have the most success in those next 10 years, we need to implement a project from the vice president down to the U11 side. A solid structure.
What would you do in the short-term?
We would've looked at an interim solution. I wish, and I mean this from my heart, Koeman and Barça win the treble. I'm sure that Xavi, at the head of this project, would find a place for Koeman's talent too.
It appears clear that you've got your coach: Xavi. What about the vice president and technical secretary?
We, we have those too. The vice president would be a former player with ample experience. 'Si al Futur' is the result of seven years of work. It isn't something which was just thrown together six months before the elections. We have 20 directors, a CEO and a very hard working and ambitious team across all areas. We have a very well designed project.
So that means you don't have a place for newly appointed technical secretary Ramon Planes.
Let's have a look. How is it possible that Koeman has to work with Ramon Planes? He's one of the people responsible for the erratic transfer decisions made over the last few years. A professional should report to the vice president, who is the current president Bartomeu. That means the same people who caused this crisis are still making the decisions. Honestly, it doesn't make any sense. It's nonsense.
They have to keep working. The club can't just stop.
This sporting project shouldn't be able to make decisions but have a serious impact on the next few years. What if the new technical secretary and coach in 2021 believe Luis Suarez or Pique, for example, are still important members of the squad as the team evolves but Planes and Koeman have already sold them? It doesn't add up. There needs to be more perspective. Look beyond today, think about tomorrow and what's best for FC Barcelona.
Are you worried that Leo Messi could decide to leave Barça?
I believe there's a risk and it gives me nightmares. Messi is vital to this club, the most important player in its entire history and it'll only grow after he retires. The relationship between Messi and Barça must continue after he's hung up his boots. He should be the image of this club and its growth throughout the world.
What did you think to Bartomeu's comments on Barça TV?
That he's detached from reality. I don't know if he lives in a parallel universe or what. His comments were disappointing. It's irresponsible that he didn't step down and put the club's interests ahead of his own. Another clear example as to why the current model has to be changed. Bartomeu reads the comments in the newspapers but he doesn't listen to what the supporters are saying in the streets. He acted as if Roma, Anfield and Lisbon didn't exist.