Valverde returns to Camp Nou to take on new Barca coach Xavi
Ernesto Valverde was the last coach to deliver a LaLiga title for Barcelona
Of all the images of Ernesto Valverde's time as Barcelona coach, none were as premonitory as the one on the afternoon he was fired.
That day, he left the training ground with an ironic smile on his face and the reflection of the club's crest on his car's windscreen.
He left with Barça top of LaLiga but with an expression of relief. Valverde knew more than the rest. He knew he had squeezed the last drops out of a golden generation.
He also knew the squad needed a big overhaul which president Josep Maria Bartomeu was not ready to do at that moment in time.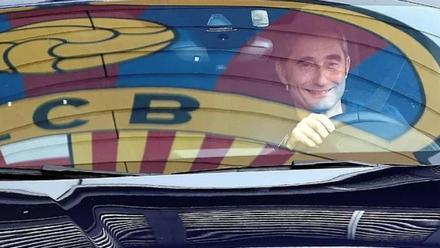 Time proved Valverde right and chaos ensued at Barça after his departure, with Quique Setien and Ronald Koeman eventually being followed by Xavi Hernandez, who is tasked with restoring the club to their former glories.
On Sunday, now as Athletic Club coach once again after two years outside of football, Valverde will face Xavi at Camp Nou.
Xavi was the man chosen to enact the generational change at Camp Nou, the post-Messi era in which Pique, Jordi Alba and Busquets are no longer guaranteed starters and Pedri, Gavi and Co. are leading the transformation.
The obstacle at the moment fo Xavi is time. The investment in the squad in the summer, with the arrival of players like Robert Lewandowski, has increased the rush for trophies again.
For months, the talk has been of winning more than building a project. The situation in the Champions League -- all but out -- has pinned all hope on LaLiga, which Barça last one, in back-to-back seasons, when Valverde was the boss.