Valverde: Barça lineup was a risk... but we have to take risks
The Barcelona coach had no regrets over his XI in Levante defeat on Thursday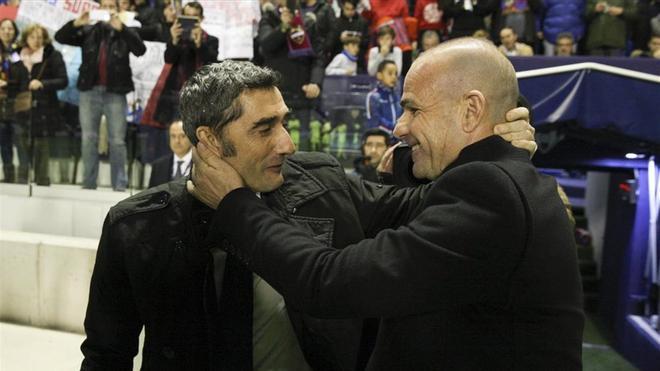 Ernesto Valverde defended his decision to ring the changes as Barcelona were beaten 2-1 by Levante in the Copa del Rey on Thursday.
The Catalans were two down after 18 minutes but will go into next week's second leg at Camp Nou one goal behind thanks to Philippe Coutinho's late penalty, won by Denis Suarez.
"I picked the best team I thought we could pick," said Valverde, who left Lionel Messi, Luis Suarez, Ivan Rakitic, Gerard Pique and Jordi Alba in Barcelona.
"It's served us to evaluate players in some tough moments, like in a Primera Division game. I know it's a risk, but you have to take risks a lot of the time."
Valverde said he was happy with new signing Jeison Murillo's debut but admitted it was a tricky game for B team defenders Chumi and Juan Miranda.
He added: "I am happy with Murillo, he has experience and he knows how to approach these type of games. As for the kids, it was a difficult test, but that's how it is, no?"
Valverde was also asked about Coutinho, who struggled to impress after starting the game after being left out of the last four La Liga lineups.
"When Dembele wasn't playing, everyone was asking me about him," the coach responded. "Now, Dembele's playing and Coutnino's not and the reverse is happening.
"What the players have to do is work hard to revert the situation. Both of them have played tonight. And if one of them isn't happy, they have to fight to turn things around. But, come on, one or the other is nearly always playing.
"Coutinho gives us a lot and will keep giving us a lot. I will say the same about Dembele. It's a repetitive question, with interchangeable names."