Statement: Lionel Messi's message to Barcelona players and fans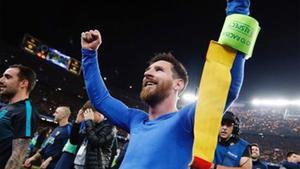 FC Barcelona forward Lionel Messi helped his team come back from 4-0 down to beat PSG at the Camp Nou on Wednesday night. He scored a penalty for the third goal in their 6-1 victory and after the game posted a message on his Facebook account to highlight the team's efforts and the fans' support.
In his message he wrote "When there's effort, attitude and desire, NOTHING is impossible. Impressive stuff from the team and our fans."
He included a photograph celebrating the victory and the team's qualification for the UCL quarter-finals.
Barcelona are now waiting to find out their opponent, with the draw on May 17.