Reports in Italy suggest Leo Messi could leave Barça to join Inter Milan
After Messi expressed his doubts to Koeman, it's only increased the stories about a possible switch to Inter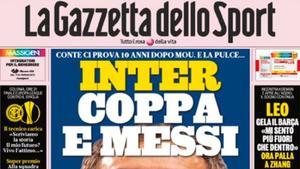 In Italy they are more hopeful than ever that Lionel Messi could leave Barça and join Inter Milan. After it emerged late last night that Messi still has doubts about staying at the Camp Nou, all it's done is increase the hopes of Serie A fans around the world to see the greatest player perform in their league.
Both La Gazzetta Dello Sport and Il Corriere Dello Sport claim Messi's warning to Koeman meant a move to Inter could happen this summer.
In their preview of the Europa League final against Sevilla, La Gazzetta Dello Sport put as much emphasis on winning a trophy as they do the Messi saga. Their headline reads: "Inter, the Cup and Messi". Inside the article itself, it says: "Messi begins to say goodbye and Inter's dream continues. Leo puts Barça on hold: 'I feel more out than in' and now the ball is in Zhang's (Inter's owner) court."
As for Il Corriere Dello Sport, their headline states: "Messi scares Barça" and later mention the meeting between Leo and Koeman didn't change anything.
Messi's father, Jorge Messi, recently bought a house in Milan which generated the initial speculation he could be set to leave Barcelona.