Real Madrid beat Barcelona when it comes to release clauses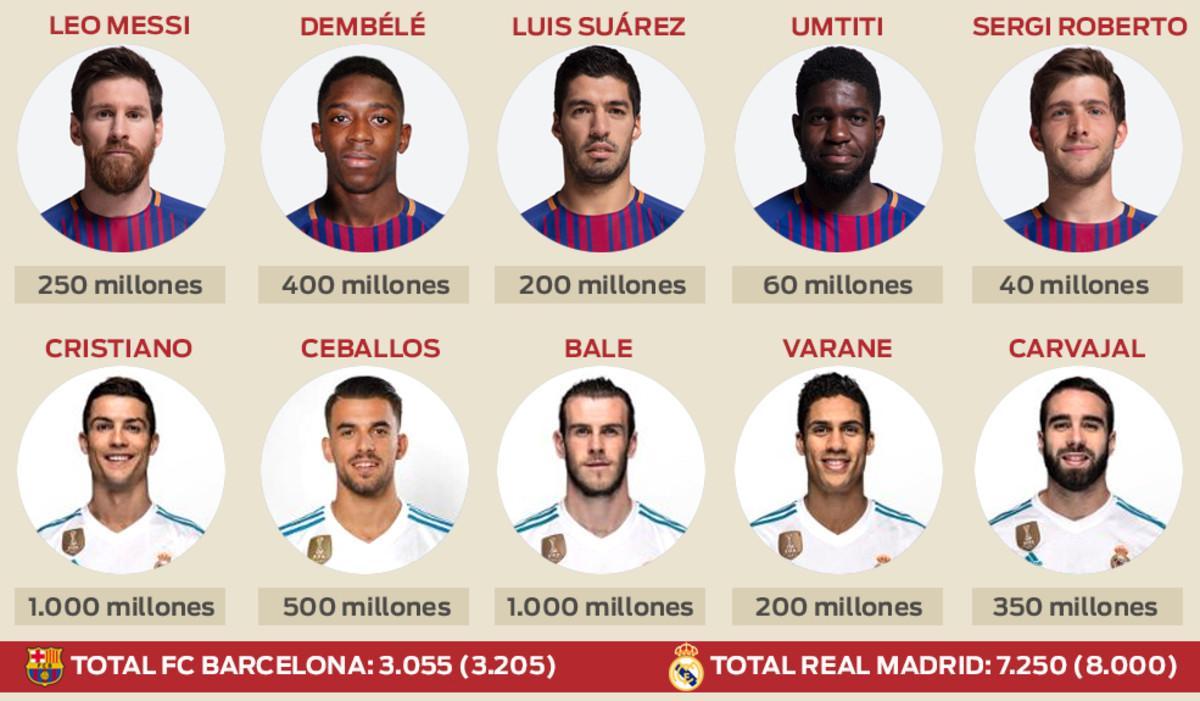 It is hard to sign Madrid's players with such high clauses
They nearly double what Barcelona's total is
Real Madrid's squad is tied down by release clauses, which nearly double those of Barcelona players in value. Florentino Perez's side's release clauses add up to 7.25 billion euros, while Barcelona's add up to 3.055 billion.
The contrast is evident when you consider Messi's is worth 250 million euros - 400 when he signs his new contract, while Cristiano Ronaldo's is set at a billion.
Espanyol, curiously, in August 1997 raised eyebrows when in their squad list they put a huge release clause on Francisco Lopez Alfaro, who was 34. It was worth 70 billion pesetas, around 421 million euros.
"The numbers are shooting up. The release clause of Francisco is only testemonial, we just want to ironically reflect what is happening in football."
BARCA CLAUSES
| | |
| --- | --- |
| Ter Stegen | 180m euros |
| Nelson Semdo | 100 |
| Gerard Piqué | 200 |
| Ivan Rakitic | 125 |
| Sergio Busquets | 200 |
| Denis Suárez | 50 |
| Arda Turan | 125 |
| Andrés Iniesta | 200 |
| Luis Suárez | 200 |
| Leo Messi | 250 (400 when he renews) |
| Ousmane Dembélé | 400 |
| Rafinha Alcántara | 75 |
| Jasper Cillessen | 60 |
| Javier Mascherano | 100 |
| Paco Alcácer | 100 |
| Jordi Alba | 150 |
| Lucas Digne | 60 |
| Sergi Roberto | 40 |
| André Gomes | 100 |
| Aleix Vidal | 60 |
| Samuel Umtiti | 60 |
| Gerard Deulofeu | 25 |
| Thomas Vermaelen | 80 |
| Paulinho | 120 |
| TOTAL | 3.055bn € |
Madrid clauses
| | |
| --- | --- |
| Ter Stegen | 180m euros |
| Nelson Semdo | 100 |
| Gerard Piqué | 200 |
| Ivan Rakitic | 125 |
| Sergio Busquets | 200 |
| Denis Suárez | 50 |
| Arda Turan | 125 |
| Andrés Iniesta | 200 |
| Luis Suárez | 200 |
| Leo Messi | 250 (400 when he renews) |
| Ousmane Dembélé | 400 |
| Rafinha Alcántara | 75 |
| Jasper Cillessen | 60 |
| Javier Mascherano | 100 |
| Paco Alcácer | 100 |
| Jordi Alba | 150 |
| Lucas Digne | 60 |
| Sergi Roberto | 40 |
| André Gomes | 100 |
| Aleix Vidal | 60 |
| Samuel Umtiti | 60 |
| Gerard Deulofeu | 25 |
| Thomas Vermaelen | 80 |
| Paulinho | 120 |
| TOTAL | 3.055bn € |