Quique Setien admits that Barcelona are looking for a new No.9
"We have spoken internally," Setien said, without giving much more away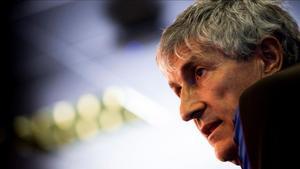 Barcelona manager Quique Setien admitted on Tuesday that the club are looking for a replacement for Luis Suarez this month.
Suarez, 32, has been ruled out for the next four months after undergoing surgery on a meniscus problem in his right knee after the Spanish Supercopa loss to Atletico Madrid.
"It's true we're speaking about it," Setien said. "But we still have to move things on a little bit."
The Barça coach was relaxed despite being left without a striker: "It's not something I am worried about too much, I'm thinking about the match tomorrow (against Ibiza in the Copa del Rey) and against Valencia.
2Everything else has to be studied exhaustively; then we will see what the most convenient [option] is."
Asked again about a No.9 coming he, Setien was a little more uncomfortable: "It's an issue I still can't answer and I am not going to do so. I have spoken about some things with the club, but nothing in concrete.
"They're internal issues and it's preferable for me if you don't ask me, because I am not going to say anything, so let's not waste time."