Siempre Positivo Barça podcast: Maradona's legacy & Griezmann's interviews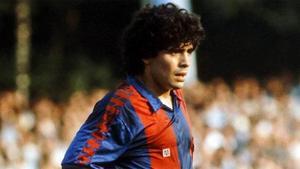 Sam Marsden, Rik Sharma and Toni Juanmartí are back for episode two of the brand new FC Barcelona podcast Siempre Positivo.
They discuss the legacy Diego Maradona left in Barcelona, often forgotten due to his success with Napoli and Argentina, following his death last week.
Antoine Griezmann's return to form is also on the agenda -- could a television interview be the reason for his improved performances?
There's also analysis of Barca's 4-0 win against Osasuna and a look ahead to Wednesday's Champions League game in Hungary against Ferencvaros.
Also avaialble on Apple Podcasts [shorturl.at/vUX47], Spotify [shorturl.at/bkxTY] and hopefully on all your usual podcast platforms.
Siempre Positivo is an English-language podcast focused on the goings-on at Barcelona.
The podcast airs every Monday and features a review of the weekend's game, a look ahead to the week to come, occasional special guests and much, much more.
Marsden (Sport, ESPN) hosts the show and he is joined by Sharma (Sport, Goal, DPA) and Juanmartí (Sport, LaLiga TV Bar) to discuss everything that's happening at Camp Nou.