Pjanic: Koeman was disrespectful, Laporta was right to hire Xavi
The Barcelona midfielder is currently on loan at Turkish side Besiktas
Miralem Pjanic has watched from afar as Barcelona have been reborn under Xavi Hernandez. The Bosnian midfielder, on loan at Besiktas until the summer, is optimistic about the team's future.
For Pjanic, Xavi's arrival has completely changed Barça. And, in an interview with 'La Gazzetta dello Sport', he once again spoke about the problems he has with previous coach Ronald Koeman.
He said: "Koeman was disrespectful with me. [President Joan] Laporta made a great decision with Xavi, now Barça look completely different."
It's not the first time Pjanic has shown his beef with Koeman, who he spent one season playing under at Camp Nou.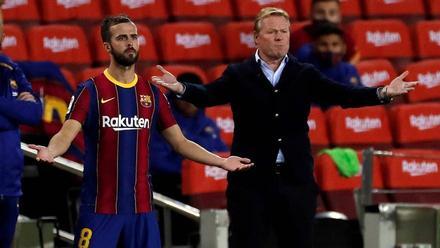 Among the things Pjanic likes the most is the impact Gavi is having. The youngster impressed him the first time he trained with him.
"The first time I saw him train I thought: Wow, this kid will be special," the former Roma and Juventus player said, adding that "I love Pedri, he dances with the ball like Iniesta."
Pjanic has made 22 appearances for Besiktas this season for a total of 1,720 minutes, setting up four goals. The loan does not include an obligatory purchase options, but, in principle, he will not be part of Xavi's plans moving forward, either.